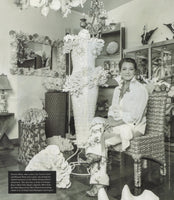 Christa Wilm
For 25 years Christa has created Large-scale seashell fantasies for fine homes and resorts. Now she offers esoteric jewels from the sea.
Christa's South Seashells Atelier
728 Belvedere Road
West Palm Beach, FL 33405
By Appointment Only
(561) 655-4650
Return Policy
Refunds honored for 14 days after sale, provided item is returned in perfect condition. Objects guaranteed for six months unless dropped or damaged by buyer.